Back in July, I took the kids to a place I've always wanted to go- Yellowstone National Park. Before we left, I attempted to do some research, but a lot of our trip was not planned. I could have used a little more personal experience. By writing this series, I'm hoping to let others know what to expect. This first entry will be about camping- specifically, at Mammoth.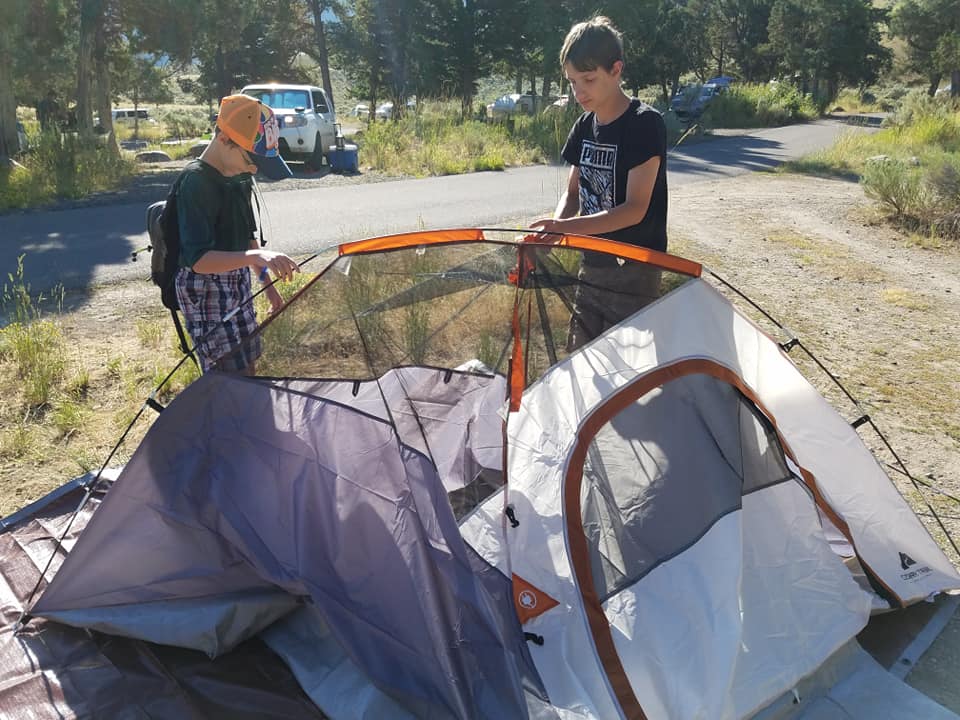 Getting a Mammoth Campsite
Part of the reason we chose Mammoth to camp at is that the availability looked the best. It is a first-come, first-served campground, so you need to make sure and get there early, but it seems to be one of the last to fill up. When we entered the turn in for the campground, there was a line of cars. A gentleman gave us a little clipboard and had us fill out our information(name, license plate number, number in party, and how many nights) while we were waiting.
We waited a bit in our car as all others in front of us went through and paid and got their info one by one. I would say we were in line for about half an hour. The kids were still asleep, and fortunately it wasn't hot yet. When it was finally our turn, I paid our $20. Note, they do accept credit and debit cards. They assigned us a campsite, told us about the rules, gave us a map, and sent us on our way.
Mammoth Campground Amenities
Our campsite was very close to the bathrooms. This was a blessing… and a curse. The bathrooms have electricity and flushing toilets. There is also soap and paper towels. No showers, but if you NEED a shower, you could go to Mammoth Hotel up the hill and use theirs for a fee. The only issue I had being close to the bathroom was that it was loud with people walking by at all hours. We were also close to a water pump. Tent platforms are made up of pea gravel. Definitely want a heavy duty tarp underneath, and take care not to damage the floor of the tent. Bear boxes are located in every site. The campground hosts told me that bears weren't an issue, really, but elk were.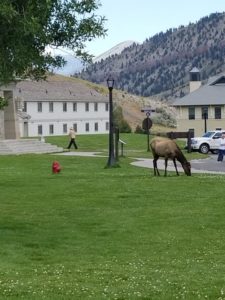 In reviews of Mammoth campground, people mentioned that they saw elk and other wildlife in the campground. We didn't see much wildlife in the campground. Just up the hill in Mammoth Village, however, we saw lots of elk.
I was told that elk would try to break into tents to get at good smelling stuff, so bear boxes are really essential to storing food.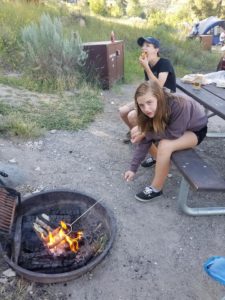 There is the bear box in our campsite. There are firepits, and you can buy wood in the campsite. I think it's pricey, though.
You might notice in the picture that there aren't many trees around. Most of the sites do not have much as far as shade.
Other Nice Features of Mammoth Campground
We appreciated being able to get internet 4G service at our campground. There is an amphitheater in the campground with nightly ranger talks. There is also a PokéStop at the amphitheater. Above the amphitheater is a short trail that leads up the hill to Mammoth Village. I'll do a whole other post on Mammoth Hot Springs and the village next. But I really enjoyed being close, and I found some other trails that I could go on next time I'm in Yellowstone.
Have I mentioned the views?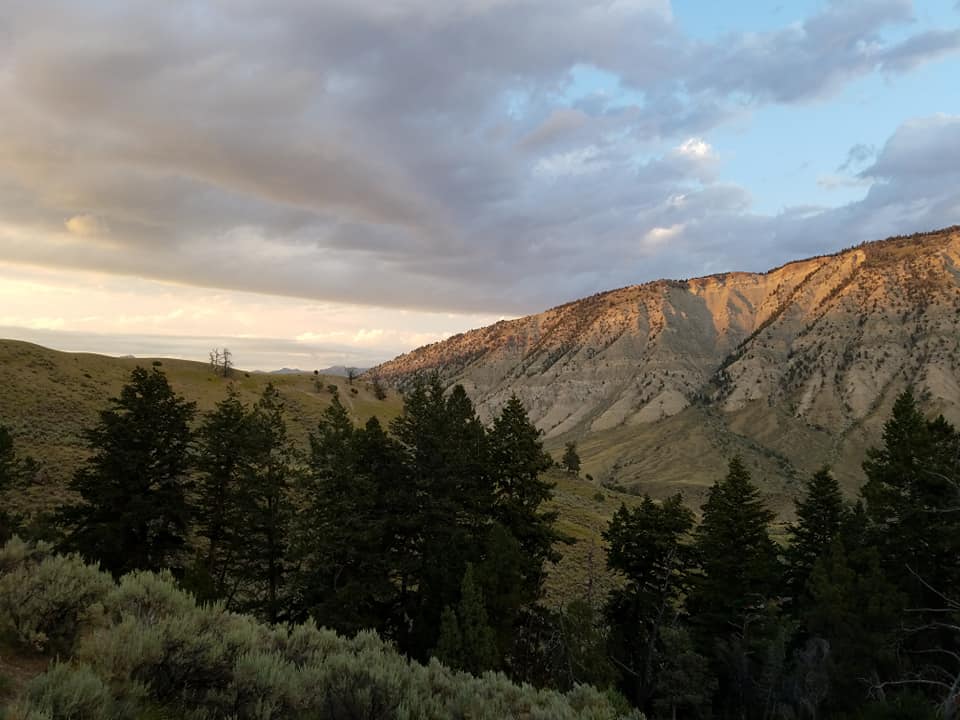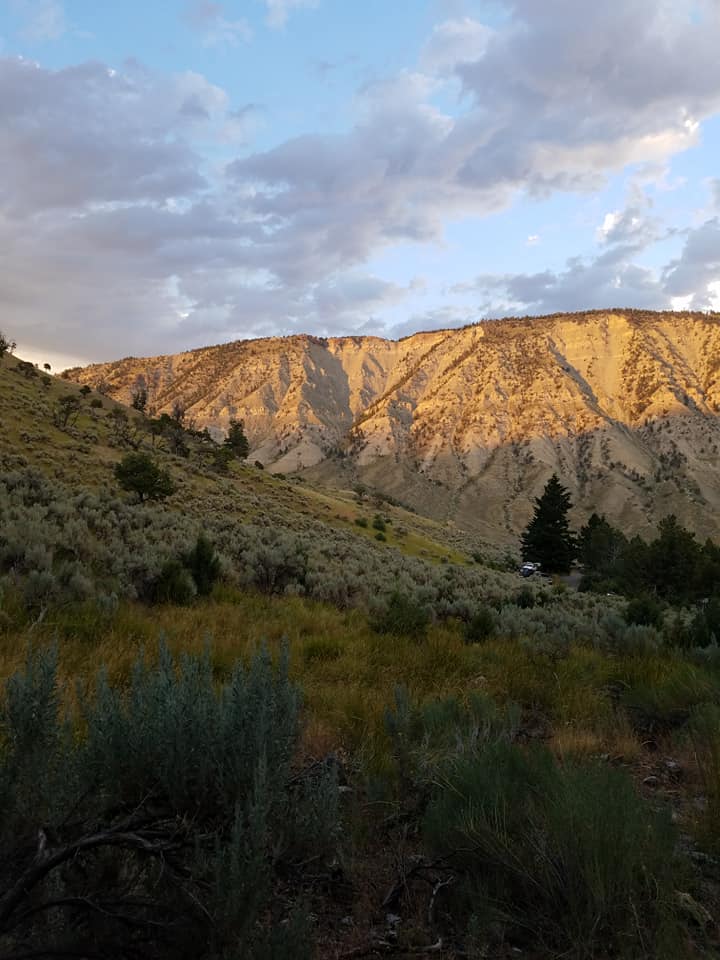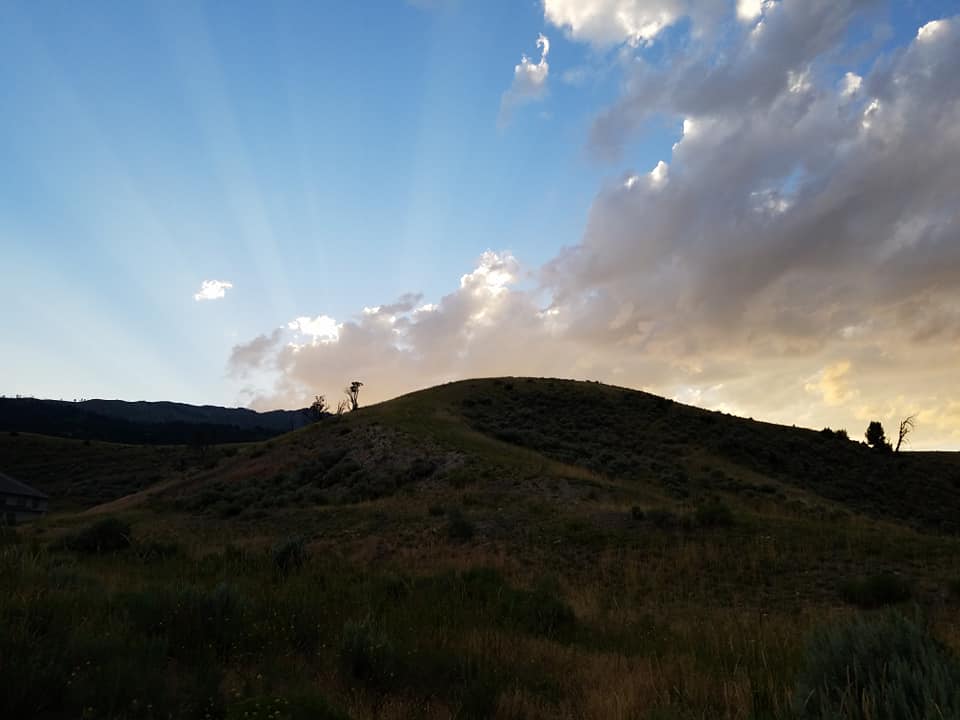 Conclusion
I enjoyed our stay at Mammoth Campground. I would love to go back and try out other campgrounds. It's a good spot in the northwest part of the park. It was a long time to get to other parts of the park- especially since we had to deal with road construction.
If you want a nice guide to all the campgrounds available in the park, here is a good link. Also, this site is what I used to find out what campgrounds filled up and when.