Sometimes having a disability can cost lots of money. Therapies and doctors costs, adaptive equipment costs, and not working so you can take care of your loved one- well, it can be quite costly. So here's some good news for a way to save money while seeing the beauty in our national parks if you or a loved one has a lifelong disability. We'll be talking about the free National Parks Access Pass.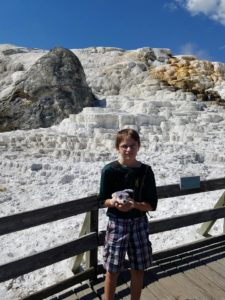 This is our youngest son, Jayden. He has Autism. Although he's not as severely affected as others, he has some limitations that impedes with his ability to do certain activities. I'm glad that he can have this opportunity to enjoy any national park for free now. It will open up more opportunities for us as a family, as well.
Who qualifies for a National Parks Access Pass?
Anyone who is a US citizen or permanent resident who has a lifelong, permanent disability. In order to get this pass, you need to prove citizenship/residency. You'll also need to have a way to confirm the disability.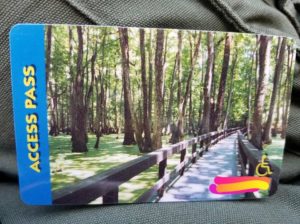 What documentation is needed to obtain a pass?
You will need documents proving citizenship or residency. This can be a US State or Territory issued Drivers License, ID, birth certificate, U.S. passport, or a Permanent Resident Card (Green Card). Also needed is proof of disability. For this, you can use a note from a licensed physician. A document issued by a Federal Agency would also work- for example, the Veteran's Administration, SSDI (Social Security Disability Income), or SSI (Supplemental Security Income).
How do you obtain the pass?
I was unsure of what to expect when we arrived at Yellowstone National Park a few weeks ago. When I asked how to get the pass on their Facebook page, they simply said to bring the documents needed to any entrance of the park. We got to the park early because I was anxious about getting a campsite without having a reservation. I tried to hand my documents for Jayden to the lady at the gate, but she told us to go to any visitor center, and they would issue the pass card. When I did get to the visitor center at Mammoth Hot Springs, they issued the card quickly and easily. This is all done for free.
If you don't want to show up to a National Park and wonder if they have a pass available, as some do not, you can order one using this application. This does require a $10 processing fee.
Other bonuses of the Access Pass
Not only will Jayden (and his carload) be able to get into national parks for free for the rest of his life, other amenities are provided at a discount. Camping in the park, for example is discounted. We camped at Mammoth campground, which normally runs at $20 per night. For us, it was only $10. Get your pass before you get to your campsite, though. We did not pick up the pass before heading to our campsite. Since we didn't have a reserved site, and it was first come/first served, I wanted to make sure we had a site. Unfortunately, there was no reimbursement of our fees. At least we got our 2nd night discounted.
This National Parks Access Pass is going to be a great benefit to those who have a lifelong disability. A beautiful creation available for access to many who qualify. Maybe someday state parks will follow in the footsteps. If you have any questions that I haven't touched on here, let me know in the comments. Stay tuned for more articles on our trip to Yellowstone.